---
The Rev. Vicki Baldwin, Priest-in_Charge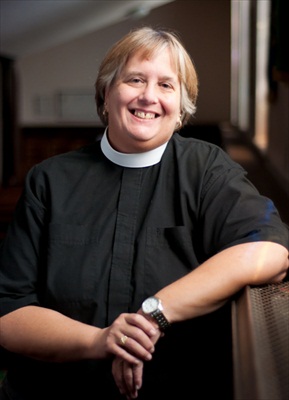 Vicki Baldwin is a native Northeasterner, born on Long Island and growing up there and in other suburbs of New York City. She came to the Episcopal Church from the Roman Catholic Church as a result of taking her sister to Christmas Eve services at their local Episcopal Church, and became an Episcopalian officially in 1984. As an active lay person for almost 20 years, Vicki was a layreader, member of the Altar Guild, vestry member and warden, so there's not much in the church she hasn't seen or done.
Prior to being ordained in 2010, Vicki had a career as a librarian, working in several public libraries in Westchester County, New York. In 2002 she moved from there to New Haven to start attending Yale Divinity School. She finished at Yale and entered the ordination process in the Diocese of Connecticut in 2006. Between graduating from Yale and being ordained, Vicki worked for the Yale libraries as a technical support manager and at The Episcopal Church of St. Paul & St. James, in New Haven, first as a ministry intern and then as a member of staff until coming to St. Paul's in September 2012.
Vicki has one sister, one brother-in-law, and one nephew, who live in Chicago. She is a fan of mystery novels, The Discovery Channel, and anything British. She is also a big fan of St. Paul's and is looking forward to discovering what future the Spirit holds for this parish.
Rector's email: rectorstp@gmail.com
Telephone: 860-564-3560

|

|

Share